ADDRESS BY CHAIRMAN

DR CLEMENT CHEN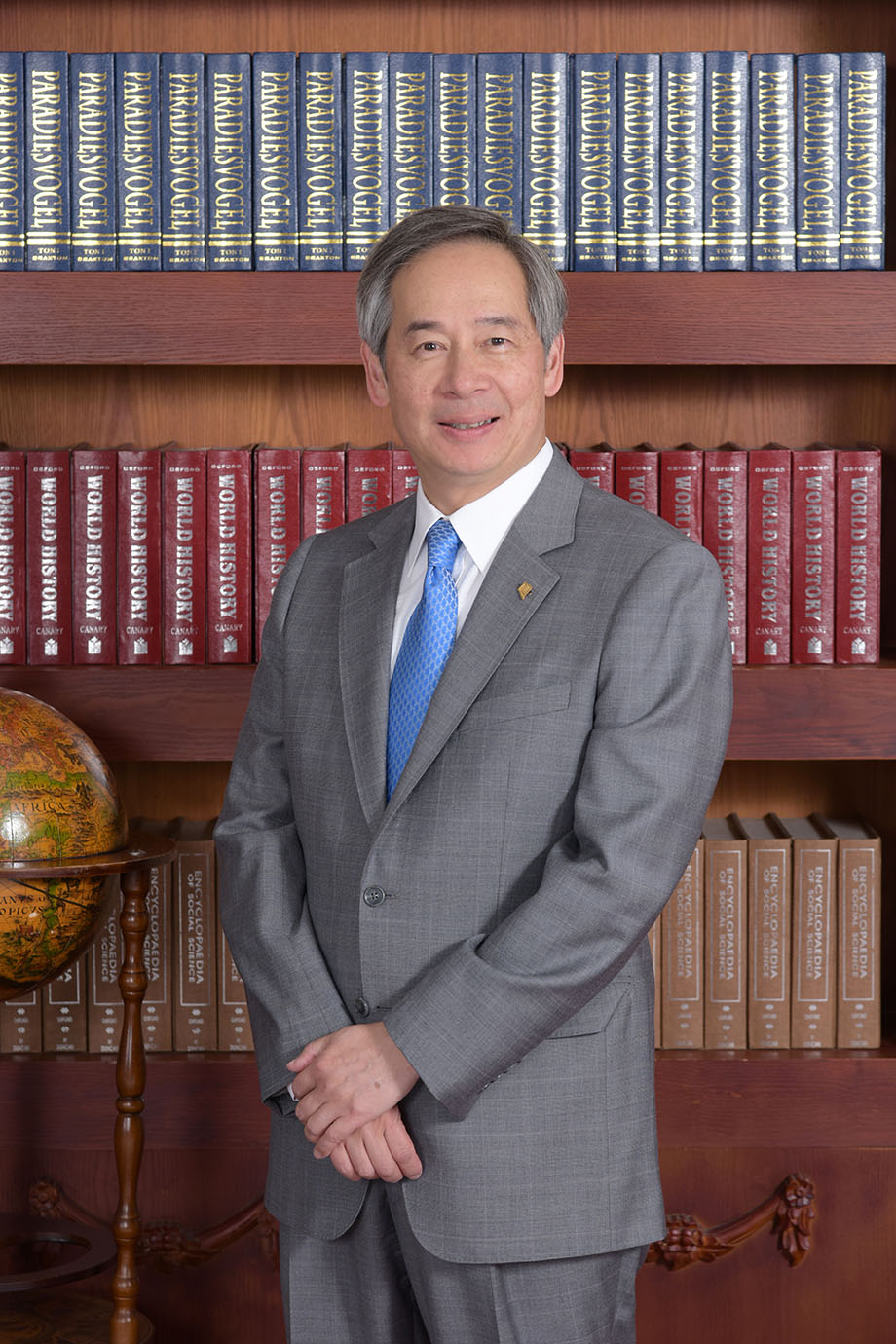 Professor Wai, distinguished guests, colleagues, alumni, students, ladies and gentlemen,
It gives me great pleasure to welcome you all to the inauguration of Professor Alexander Ping-kong Wai as the sixth President and Vice-Chancellor of Hong Kong Baptist University.
It takes a special type of person to helm a global liberal arts university in today's complex world, and as Chairman of the Council and the Court of HKBU, I'm sure I speak for the whole community when I say that I'm delighted to have Professor Wai on board as our new President and Vice-Chancellor.
Professor Wai's background
HKBU is a unique institution in many ways, as it combines its longstanding strengths in the arts, communication and Chinese medicine with its excellence in the sciences and humanities.
As our world becomes smaller, and research and teaching more interdisciplinary, we need leaders who have a strong grasp of the arts and sciences, as well as an in-depth understanding of the importance of research and teaching at modern, progressive institutions such as HKBU.
We are extremely lucky to have found such a person in Professor Wai, and when we heard his vision for the University, we knew we had the right man for the job.
Professor Wai is an established figure within the global higher education sector. He is known for his commitment to pioneering innovative technology and translational research, and for his outstanding contributions to education. As a son of the city, he also understands the culture and complexities that exist in Hong Kong.
Professor Wai was born in Hong Kong, and during his childhood, his father instilled in him a passion for knowledge and learning that remains to this day. When in high school, the young Professor Wai showed an aptitude for Chemistry and Physics, but an unfortunate sensitivity to chemicals pushed him to pursue the latter, and he graduated with a First-Class Honour degree in Science majoring in Physics from The University of Hong Kong in 1981.
Achievements in science
Following his undergraduate studies in Hong Kong, Professor Wai went to the University of Maryland, College Park, in the United States for his master's and doctoral degrees, and it was there that his distinguished research career began.
While in the US, Professor Wai developed his interest in fibre optic communication, and in particular, the fibre-optic cables that pass under the oceans and connect our continents in this digital age.
He also showed an interest in matters beyond earth, as early in his career he joined the Science Applications International Corporation in the US, where he worked as a research scientist on the Tethered Satellite System (TSS) mission, a joint US-Italy Space Shuttle project. This experience would also come in handy later on in his career.
Over the years, his academic research in photonics, which concerns the science of light, has contributed to significant advances in fibre optic communication, and he has a rich array of impactful and patented research achievements to his name.
Administrative achievements
Besides his excellence in research, Professor Wai has also built up a formidable reputation as a first-class university administrator. Following 15 years in the States, Professor Wai returned to Hong Kong, and he joined the Department of Electronic Engineering at The Hong Kong Polytechnic University as an Assistant Professor.
He quickly moved up the ranks, and in a 25-year career at the institution, he held almost every possible leadership role, from Department Head and Dean to Advisor to President, Associate Vice-President, Vice-President (Research Development) and finally Deputy President and Provost.
His successes during that time are too many to list, but there are several notable examples that I would like to highlight.
As Vice-President (Research Development), Professor Wai transformed the research landscape at PolyU, and he oversaw an exponential increase in research funding.
He also helped steer many innovative projects, ranging from those that focused on drug development and lunar and deep space exploration to aviation maintenance, the use of AI in design, and the application of optical sensors in railway monitoring, which was used in Singapore's SMRT and in High-Speed Rail in the Mainland.
His overall influence extended far beyond the management of research projects, as he also fundamentally changed the way scholars work at the institution. In particular, Professor Wai worked hard to foster a collegiate and collaborative environment across all fields and disciplines, and he was always available if people were in limbo, as he willingly filled in knowledge gaps or suggested new potential research directions. And while he comes from a science and engineering background, Professor Wai has always strongly supported the arts and sought links among the various disciplines. This collaborative spirit also reached beyond the borders of Hong Kong, as he established new and exciting partnerships with internationally renowned partners, such as Boeing, Huawei Technologies, Alibaba and the Royal College of Art, to name but a few.
Summary
With Professor Wai taking up the presidency, we are now hugely fortunate to benefit from his vision, leadership and comprehensive experience at HKBU.
In the short few months that we have worked together, what is clear is that Professor Wai has the rare ability to combine his formidable intellect with a down-to-earth, hands-on approach, and he does not shy away from difficult questions or challenges. As an incurable optimist, he also considers himself someone who can grasp and create opportunities by dreaming the impossible dream. His foresight has enabled the development of many exciting projects over the years, and we can look forward to similar successes at HKBU in the future.
On this special day, it gives me great pleasure to extend my congratulations to Professor Wai on behalf of the University community, and I'm excited to work together with him to advance HKBU. We have high hopes for him, but I have no doubt that he will exceed our expectations and help the University reach new heights during his time at the helm.
Thank you.